About Us
Founded in 1860 in Cincinnati, Ohio, Greg G. Wright & Sons has been a pioneer in the manufacture of engraved steel blocks, custom tags and plates, metal stamping and CNC turning. At its inception, the company was known for the skill of its craftsmen and the high quality of its products, including stencils and metal badges for police and fire departments. The coins and tokens produced by Greg G. Wright & Sons, especially during the Civil War, reflect the attention to detail that was—and still is—at the heart of everything we do.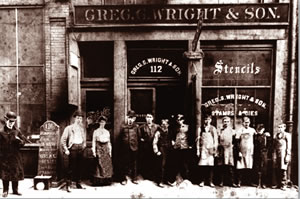 By 1890, Greg. G. Wright's sons had joined the business, which was well on its way to many decades of future growth and success.
Greg G. Wright & Sons continues to manufacture many of the products it has historically produced. However, in the 21st Century, our business and our reputation are increasingly being built on the precision metal products we manufacture for other industries.
We're proud of our history, but more importantly, we take pride in the professionalism, integrity and service which are the signature of Greg G. Wright & Sons, and which have served our customers so well for so many years.