CNC Turning, Swiss and CNC Machining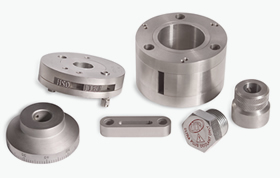 Machining, Secondary Operations, and Assembly
Greg G. Wright & Sons provides industry expertise in CNC machining and Swiss using high temperature alloys. We work with your internal team to create the appropriate processes and high quality products to meet or exceed your manufacturing objectives.
Automation for design, drawing, manufacture and delivery
Creation of the best manufacturing processes and in-process inspection plan to meet your objectives
Use of Quality Assurance checkpoints including 1st article inspection
material certification
Delivery scheduling per your specifications
Final inspection prior to shipping
We will work with you on re-design of existing drawings if appropriate, prototyping, full scale production runs, secondary operations and packaging to take your project from concept to finish.
Greg G. Wright & Sons provides
Multi-task machining of complex parts
5/16" to 3" outer diameter specialists
Machining of high temperature and other alloy metals on a daily basis
Low to high volume machining, from as few as 100-200 parts to as many as 500,000 or more
Internal process improvement and quality program in place, customized for each part and project
On-time delivery of high quality parts
High temperature alloys A286
Inconel ® 625, 718
Stainless Steel: 321, 316, 303/304
Alloy steels
Aluminum
Brass
Carbon steels
Copper
Tool Steels


Aerospace
Automotive
Military
Tool and Die
Packaging
Consumer Products
Hardwood Flooring

Heat treating
Centerless grinding
Tumbling
Aerospace specifications
Welding
Brazing
Wire EDM
Sink EDM
Assembly and assembly services for parts we manufacture to your specifications
Design services for special assembly processes to meet your needs
Special packaging needs per your specifications. Drop shipments per your request